Spooky Stuffed Peppers Recipe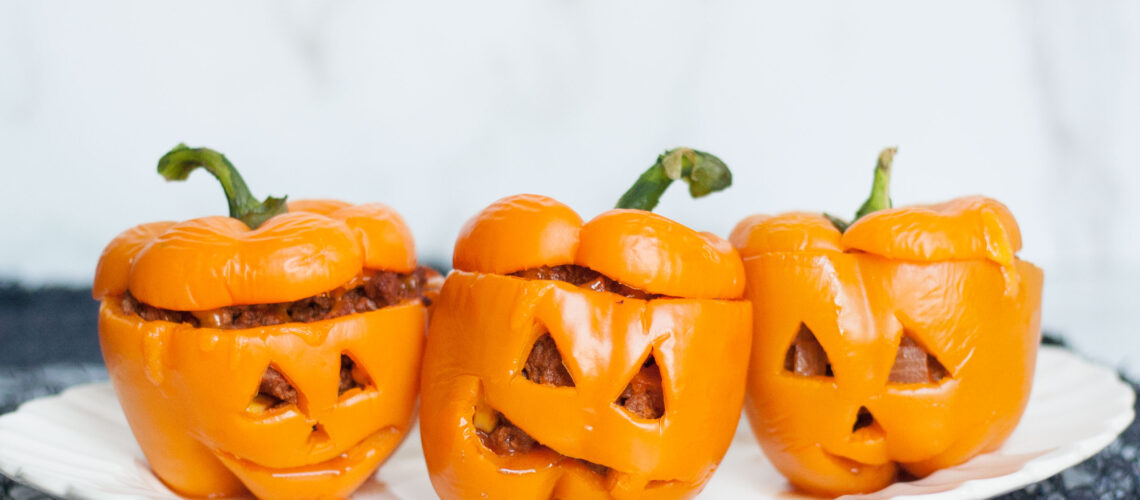 Happy spooky season, Wildcat! This week we are making a delicious Halloween meal: Spooky Stuffed Peppers! This recipe includes spicy Latin flavors like chili powder and cumin and the bell peppers are cut into fun Jack O Lantern shapes. It's like miniature pumpkin carving but much tastier!
Ingredients:
1 lb lean ground turkey, chicken, or beef (to make this vegetarian sub for one can of black beans)
6 orange bell peppers
1/2 cup dry wild, brown, or white rice (1 1/2 cup cooked)
1 medium white onion
1 medium zucchini (shredded)
1/3 cup low fat shredded cheese
2 tbsp chili powder
1 tsp cumin
1/2 tsp salt
1/2 tsp pepper
2-3 cloves of garlic
1 8oz can of plain tomato sauce
Instructions:
Preheat oven to 350F
Cook 1/2 cup of dry rice according to package instructions. Cover and set aside.
Dice the onion and mince the garlic. Shred the zucchini on a cheese grater.
Cut off the tops of the bell peppers and take out the inside pith (the white parts), and the seeds. Then cut Jack O Lantern faces in the sides of the pepper.
Heat one tbsp of oil in a large pan over medium heat. Cook onions and garlic until soft and translucent. Add the cumin, salt, pepper, and chili powder. Stir in the zucchini and cook until soft.
Add meat (or beans) to the pan and cook until brown and reaches 160F.
Stir in the tomato sauce and cooked rice. Turn off the stove.
Place the bell papers on a baking sheet. Fill the bell peppers with the meat, rice, and veggie filling mixture. Top with shredded cheese.
Bake the filled peppers for 25-30min until soft.
Enjoy your spooky delicious Jack O Lanterns!